Brett J. Teague, M.D.
Dr. Teague is a native of Manhattan, Kansas, where his father was a professor at Kansas State University. After graduation from Manhattan High School in 1982, Dr. Teague went on to earn his Bachelor of Arts degree from Baylor University, Doctor of Medicine degree from Texas Tech University Health Sciences Center School of Medicine, Ophthalmology Residency training at the University of Missouri- Kansas City and Glaucoma Fellowship training at the University of Oklahoma. During his years of medical training Dr. Teague was the recipient of many awards including induction into the Alpha Omega Alpha Medical Honor Society (limited to those in the top of their medical school class).
Dr. Teague is board certified in ophthalmology. He is a fellow in the American Academy of Ophthalmology. He is an active member of the Texas Medical Association, the Taylor-Jones-Haskell Medical Society and the Christian Ophthalmology Society. He has been Chief of Ophthalmology at Hendrick Medical Center. He serves as clinical instructor for the Texas Tech School of Medicine Department of Family Medicine. Dr. Teague has taught and presented lectures at the annual meeting of the American Academy of Ophthalmology and at the department of Ophthalmology- Texas Tech School of Medicine.
Dr. Teague is married to the former Jill Getson Teague and the proud father of four daughters and two sons. He is a deacon in his church. His hobbies include mountain climbing, tennis, bicycling, photography and computers. Dr. Teague has competed in numerous century bicycle races (100 miles in distance), but his most recent passion is mountain climbing. Dr. Teague summited the highest peak in the lower 48 states (Mt. Whitney, California) and the highest glaciated peak in the lower 48 states (Mt. Rainier, Washington). In 2010 Dr. Teague summited Africa's highest peak- Mount Kilimanjaro and in the summer of 2012 conquered Europe's highest mountain- Mt. Elbrus.
He is also very involved in ophthalmology mission work. He has traveled to the nation of Ghana in West Africa on multiple occasions with Christian Eye Ministry to perform cataract, glaucoma and cornea transplant surgeries. In 2007 he accompanied a group from Abilene Christian University to Guatemala where he performed eye surgery. His last mission trip was to Zambia in the summer of 2011. He was privileged to be part of the Zambia Medical Mission. To date Dr. Teague has performed close to 600 sight-restoring and sight-saving surgeries in the third world.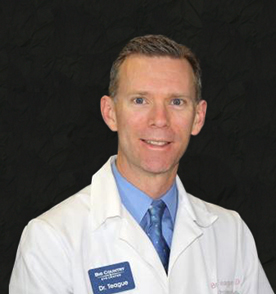 Brett J. Teague, M.D.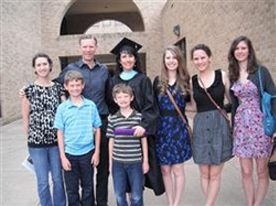 Teague Family 2012
Lacey Wallendorff, O.D.
Dr. Wallendorff was born in the Texas panhandle and raised in the small town of Hedley. Upon graduation from Hedley High School in 2004, Dr. Wallendorff studied Biology at college, with her undergraduate journey ending at West Texas A&M University in Canyon, Texas. The University of Incarnate Word Rosenberg School of Optometry in San Antonio is where Dr. Wallendorff received her optometric training and Degree of Optometry. Upon graduation she traveled half way home and settled in Abilene, Texas to work with Dr. Teague.
Since a young age Dr. Wallendorff has been interested in eyes. Helping people, especially children, improve their quality of life through vision is her mission. In August of 2013 she joined the Quijotes medical mission trip to Oaxaca, Mexico, where she helped provide donated eye wear to hundreds of under served people.
Dr. Wallendorff loves playing sports, especially basketball. She enjoys agriculture and equestrian activities, having grown up with farmers and ranchers. Most of her family still lives in the panhandle, where she visits quite often.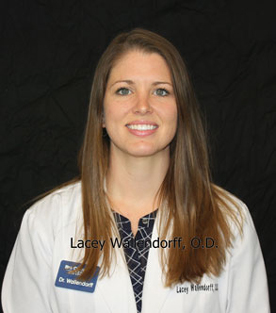 Lacey Wallendorff, O.D.